Shopping Cart
Your Cart is Empty
There was an error with PayPal
Click here to try again
Thank you for your business!
You should be receiving an order confirmation from Paypal shortly.
Exit Shopping Cart
Handmade Hugs Society
Cowichan Valley
Another amazing show of support for Handmade Hugs . . . .
Handmade Hugs Society was the grateful benefactor of a "GIFT" (Growing Island Families Together) grant from the Cowichan Commons branch of Island Savings Credit Union. Thank you so very much!
(L-R) Angela Ketch, Cowichan Commons Commercial Dept, Sandilea Gibson, Hugs Director, Cathy King, Gift Committee Secretary/ Senior Advisor Insurance Cowichan Commons and Stacey Berry, Hugs Director/ Treasurer.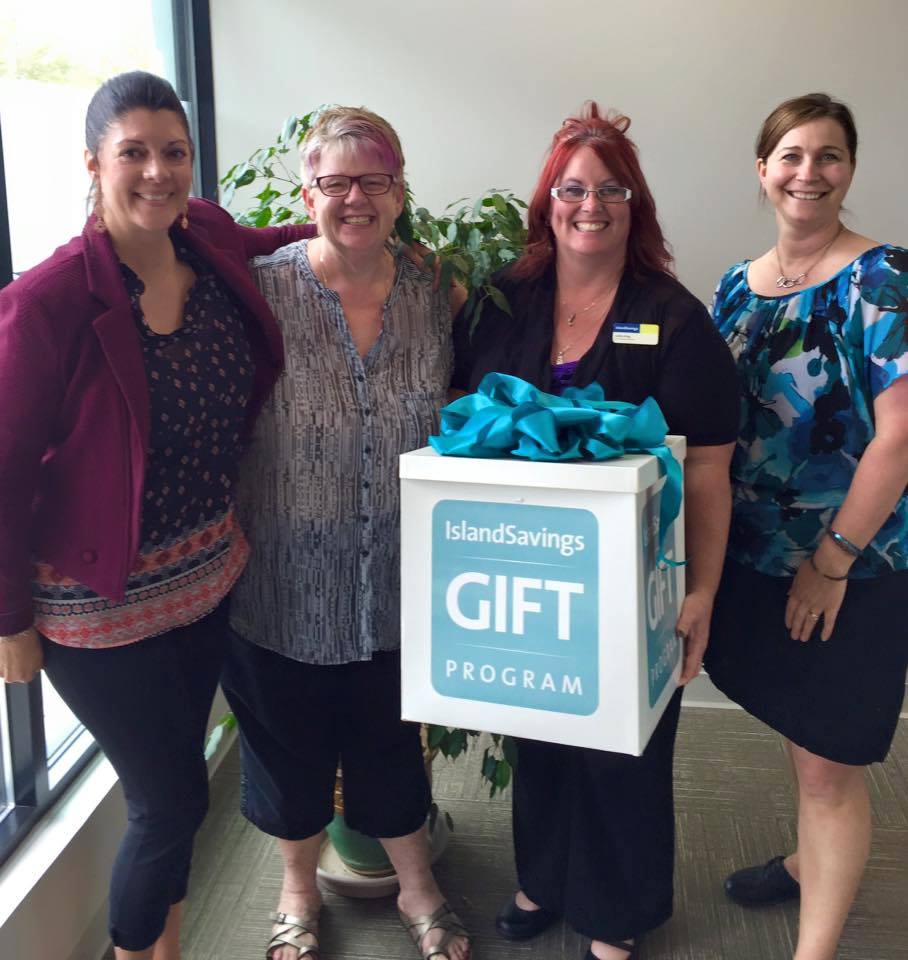 Oh my! What a busy Spring we've had!
In April, we held our annual HUG-A-THON. It was a wonderful event (as usual!) with everyone in attendance working very hard toward set goals....yarn sorting and packaging, Toiletries bags and pajama bottom kits cut and ready to sew, jelly roll-type quilt tops to sew, pillowcases to sew and lots more one- or two-offs to complete. We accomplished everything we set out to do.
One of the highlights was a demonstration by Karen Christensen of the burrito method of making pillowcases (the link is in our Patterns & Links section). As you can see, it was a well attended demo.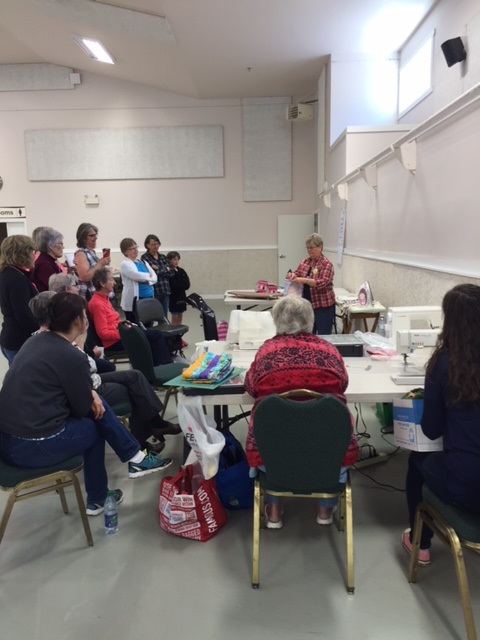 April 23rd was our next Group Hug and what a great day we had! The Group Hug was well attended, mostly by volunteers who were returning items they had finished since the Hug-A-Thon....TEN quilt tops, 42 finished toiletries bags, plus pajamas cut and ready to sew, strips cut ready to sew, ditto pillowcases and more kit bags then on top of all the sewing, there was a garbage bag full of Woollies, toques, scarves and slippers collected from the busy needles of our stitchers! WOW! How wonderful to be so well into our list of requirements for the year! Thank you all for your industriousness and your commitment.
May turned out to be our fundraising month . . .  our first Hot Dog Sale of the year followed closely by our manning a concession at a local elementary school. Both were great fun and very successful too!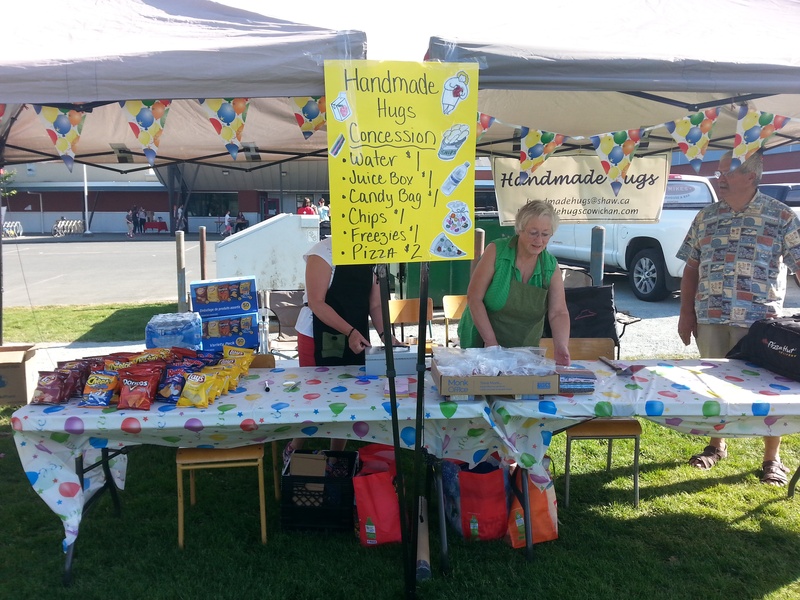 As I've said before, Spring is always a busy time for us. However, we try to take some time in the summer to enjoy our families, the sunshine and whatever holiday plans we have. For that reason, we also take a break from Handmade Hugs work bees.
We had our next meeting and Group Hug on June 4th, the last until August 13th.
As most of us can't imagine stopping the sewing or stitching that we do for the love of it, the work will continue, often in some quiet spot of shade with a cool drink close to hand.
Enjoy your summer! Don't worry; we'll keep you posted of all our newsworthy events.

Do you remember how proud Mama Monique was of her fantastic Bouboule? Well, Bouboule has rewarded her by 'hatching' the first of many Boulettes. These lovely little babies will morph into toques, scarves, mitts and slippers on the hooks and needles of our talented Yarn Diva and her flock of volunteers.
Stay tuned; we'll keep you apprised of their progress.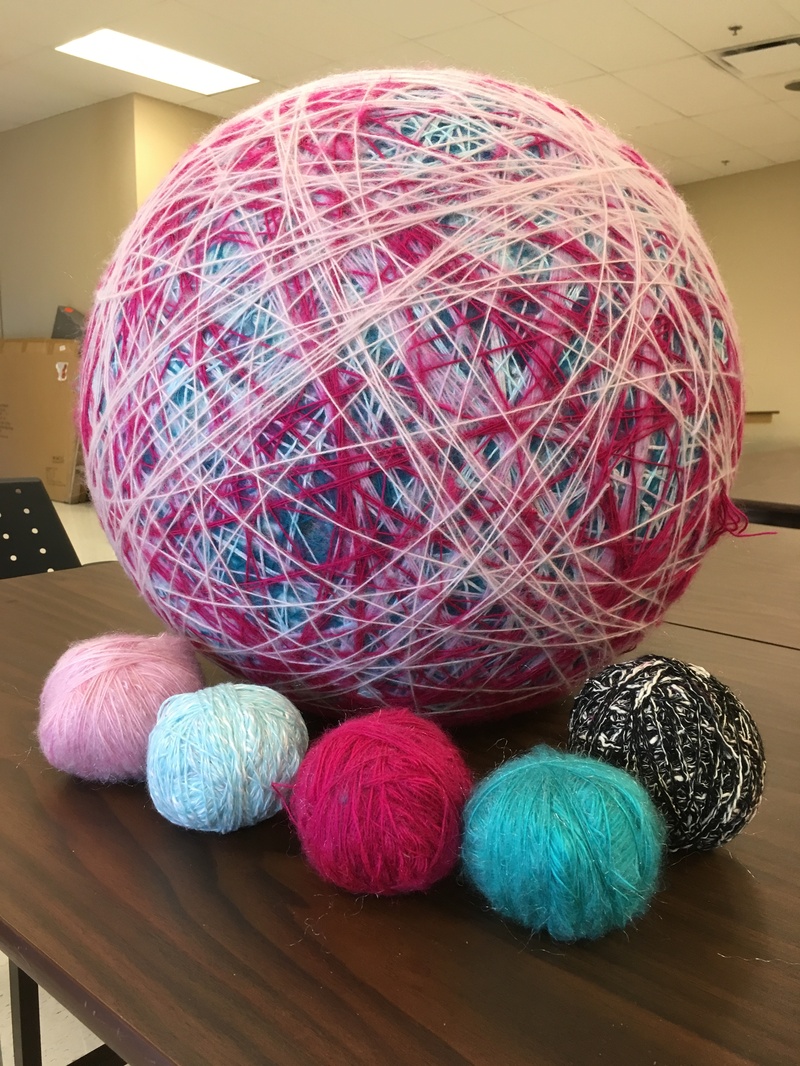 Happy New Year!
This past year was one made of many ups and downs; we lost and gained volunteers, had a lot of sickness and/or injury among our Board members causing others on the Board to step up, push their comfort zones and fill in the gaps, financial donations were down but our income from Hot Dog Sales went up. But through all the ebb and flow, we've met goals, provided HUGS, and did what we set out to do, to help those in our community who were facing stressful, possibly life changing situations.
You, our volunteers, managed to produce pieces in record numbers, which was fantastic as we had a record call for them! We have one more delivery date in February (just before the AGM) which will adjust our total pieces from 2,279 to over 2,300; an amazing achievement, to be sure!
And so, here we are at the beginning of a new year, a clean slate for new goals, new accomplishments. I'm proud of where we are. I'm proud of how far we've come and of where we plan to go. But I'm proudest that we're still here, six years from becoming a Society, that we're still growing, that we're still being of service.
Thank you all for sharing your time, your talents and your dedication. You make me believe together we can do anything.
~ ~ ~
Annual General Meeting
Traditionally, February has been our 'business' month. We hold our Annual General Meeting, we make the plans for the coming year, we decide what we need to purchase and then make plans for fundraising, we decide where we need to set focus for inventory and then set the date for another of our annual events, our Hug-A-Thon.
First, our AGM: Our annual election of a Board of Directors will take place on Saturday, February 20th, beginning at 10:30 AM, at Thrifty's.
Welcome 2016!
Our Annual General Meeting is now done until next year and our new Board includes the following:
 Julie McClure
 Anne Newman
 Monique Lapointe
 Stacey Berry
 Harjeet Palmer
 Fran Whitfield
 SandiLea Gibson

We still have space for one more Board member; if you're interested, please contact any Board member for information.
~ ~ ~
Thank you to those who helped me to finish the last of our Winter Woollies  deliveries (we always have a secondary delivery in February as many of our clients receiving help at Christmas-time but need a little more in late winter to help get through the last of the cold season). My guess was correct – these last deliveries put our 2015 count over the 2300 mark! Amazing! Thank you all.
~ ~ ~
Now starts our preparations for the inventory required for 2016. First up is our annual Hug-AThon, taking place on April 9th at Mellor Hall (Cowichan Exhibition grounds) from 9 AM to 4 PM. You are all invited to come and share in a very productive day, knitting, crocheting, sewing and quilting; a day of positive energy and shared commitment to making handmade *hugs* available to any of our neighbours who need them.
We hope you'll be able to come for the day, but if you can only manage a few hours, it's still worthwhile time. You'll be amazed at how much we can accomplish in a very short time!
Don't forget to bring a bag lunch and a mug! We'll supply a hot soup, beverages and a few goodies too.
~ ~ ~
Remember . . .
Helping in any way goes a long way.

Oh my, I've been remiss in keeping our News line up to date!  I'll fix that right now.
Summertime is usually a quiet time for Hugs, the Board members take time to be with their families and friends for some much-deserved downtime, time to sit back, relax and enjoy some of the supposedly 'simpler' things. And still, somehow, the work continued. Every week I picked up something from Creative Quilting – donations and finished items both – and we still have a couple of months to go before the Winter Woollies distribution!
Do you remember when we first told you about Bouboule and how proud Mama Monique was of her fantastic find? As we told you then, Bouboule had 'hatched' the first of many Boulettes. These lovely little babies are morphing into toques, scarves, mitts and slippers on the hooks and needles of our talented Yarn Diva and her flock of volunteers. Since then, Monique has been busy; winding off more and more chicks and now Bouboule is no more. Monique got bags and bags of Boulettes from this amazing donation and work has begun turning each of the hatchlings into something warm and wonderful for our Hugs clients.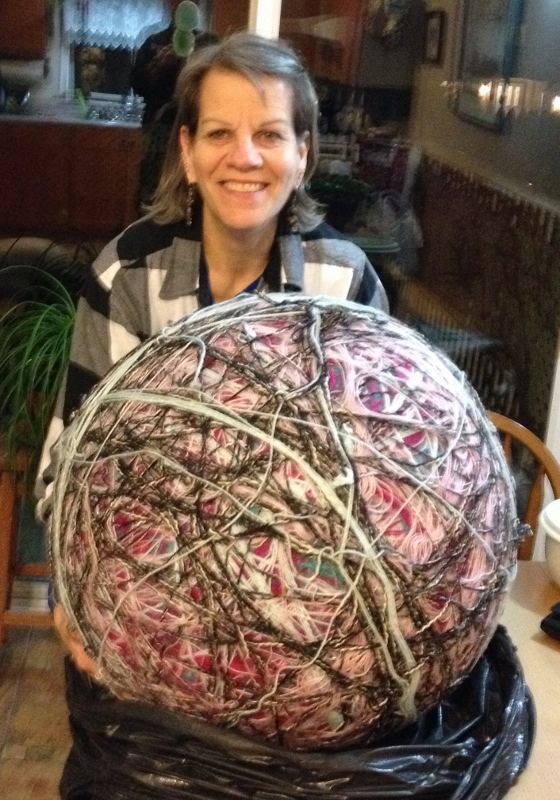 The gentleman who generously donated Bouboule asked only one thing, to have something made from the yarn that came about as a result of saving his mother's project leftovers. Monique was pleased to honour his request. Her gift is shown below, a pair of toques and a luxurious, wide scarf.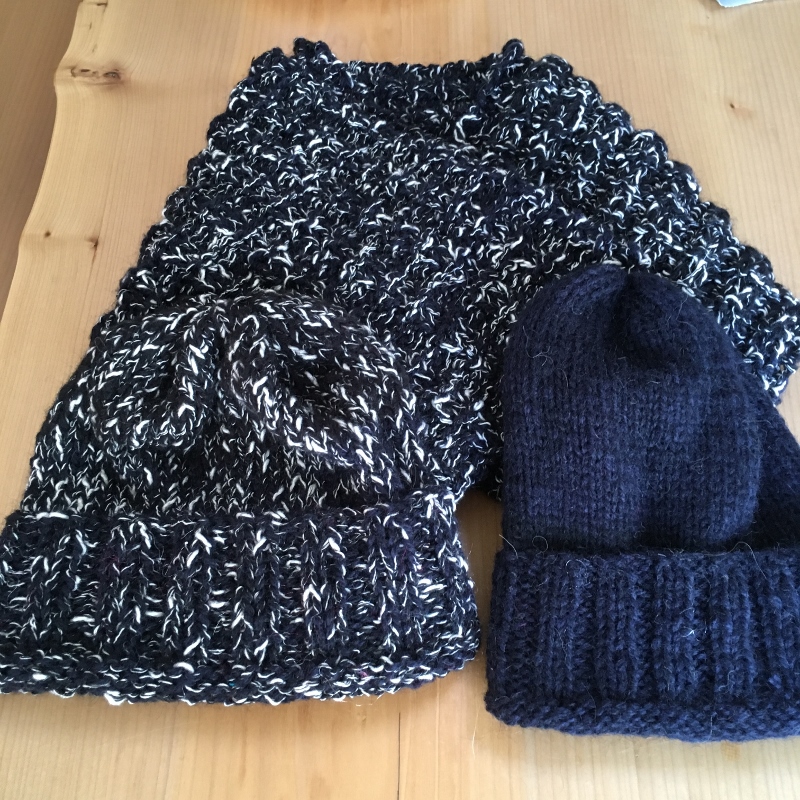 September brought three milestones for Handmade Hugs. The first was marking our 50th meeting since becoming a Society. Over the five year time span since our registration, that averages ten business meetings per year and that, in my opinion, should be confirmation to anyone that we're not just ___________ (fill in the blank with anything negative or patronizing said about any grassroots group).
The second milestone was that we reached 150 LIKES on our Facebook page and we had our first Membership payment (via PayPal) from the website. Our Facebook page has visitors every day, with comments and shares coming with virtually every posting.
We have momentum, even in this quiet-time. We have notoriety too. I'm confident we will continue to grow, continue to be able to service any who come to us for assistance. After all, that was the plan.
The final milestone comes much closer to home. One of our founding members, Anne Newman, along with her husband, Dick, has decided it's time to 'really' retire and embark on a new journey. Anne has been active and involved with Handmade Hugs even before it was Handmade Hugs. She was among the women I first approached with the idea, the dream, which would become Hugs.
While occasionally Anne and I have had 'artistic differences', we have always looked toward improving Hugs, to uplifting our volunteers, to meeting the needs of more and more of our neighbours. Anne has sewed and knitted, sorted and sweated, and along with her husband, Dick, cooked and cleaned and carted her way into the Handmade Hugs history book.
I can't say "we couldn't have done it without you, Anne", we probably could have, but it wouldn't have been as classy, it wouldn't have been as productive, and it damn sure wouldn't have been as much fun! So, Thank You, Anne (and Dick too), for your years of service. You can always have pride when you say "I helped build that", because you most certainly did.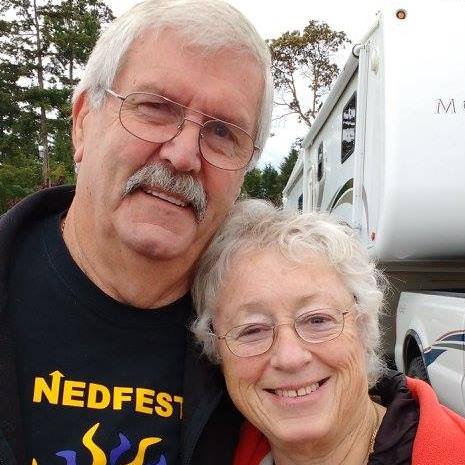 P.S. You're welcome back any time you find retirement boring!
October and November were deceptively quiet-appearing months...sort of like the duck on the pond, calm on the surface, feet paddling like crazy beneath! That was us, working busily in the background.
Our October Group Hug saw volunteers cutting and sewing pajamas to bring our required numbers up to snuff, while knitters and crocheters worked their magic with needle and hook, producing toques, slippers, scarves and so many more items for our upcoming Winter Woollies Project. We delivered a few more individual HUGS to those facing critcal, possibly life-altering situations. We tentatively chose our Group Hug dates for 2016, including our annual work bee, the Hug-A-Thon.
In November we discussed budget requirements for the coming year and planned for our AGM and election of officers for the coming year. More information will be available in our Newsletter, but there will be five vacancies to be filled on our Board. If you are interested in joining this dynamic group, please send us an email via our Contacts section.
And then came December, and the duck was flapping its wings, AND paddling like mad! Our volunteers were dropping off finished items every day -- in huge quantities! By boxful and bagful, our inventory numbers grew by leaps and bounds! It was amazing to behold. And finally, our Winter Woollies pack and deliver day arrived.
 What an amazing day! AND IT DIDN'T RAIN. It's a big job to get everything our volunteers had produced into one place and it would have literally taken hours for us to have done it a carload at a time but we had a merry band of elves who showed up with a cube van and got everything moved in one load....and then unloaded it all too! Thanks guys, you rock! And then, when everything was piled around the table tops, another group of incredible people counted, boxed and delivered all but a very few of the requested Woollies. Then it was time to clean up and yet another generous person offered to help trek stuff back to our warehouse, which was accomplished in about 20 minutes (thanks to a lot less stuff going back than came out plus a small army of willing hands passing boxes and totes from hand to hand).
A few days later we were able to tally all that went out that day --
For our Winter Woollies Project 2015,
we disbursed 2,279 pieces!
That's fantastic! Thank you to all our Volunteers who gave of their time and talents to help others in the Cowichan Valley. YOU ROCK!!
I have said it before and I'll say it again, we have TALENTED, generous, and committed volunteers. It is you who make it possible for Handmade Hugs to provide comfort items to those who need them. That's an incredible gift in this season of giving. Thank you. Merry Christmas.
I hope you'll join us. Remember. . . .
Helping in any way, goes a long way.

For those of you who have spent any time at one of our events or who have done any stitching for us, you will have seen our Yarn Diva sorting, packaging and distributing our stash of yarn. What you might not be aware is that Monique, said Diva, is almost solely responsible for maintaining the size of our stash.
We receive  a wonderful, generous amount of donations, but thanks to our Volunteers being as prolific as they are, we have to constantly be on the look-out for opportunities to gather, barter or purchase more. For that reason, Monique has taken it upon herself to meticulously sort the donations, removing yarns, needles and hooks and other supplies which we are unable to use. She then sells them on an auction site and uses the proceeds to purchase whatever we might need, usually large lots of one colour in order to make, for example, afghans that require multiple skeins to complete the project.
However, Monique doesn't just go out and spend money. She contacts the seller(s), explains who we are and what we do and asks them to consider either donating their yarn or at least selling it to us at and incredible bargain price. Below is the result of her last -- in a line of many -- wheedling and penny pinching forays.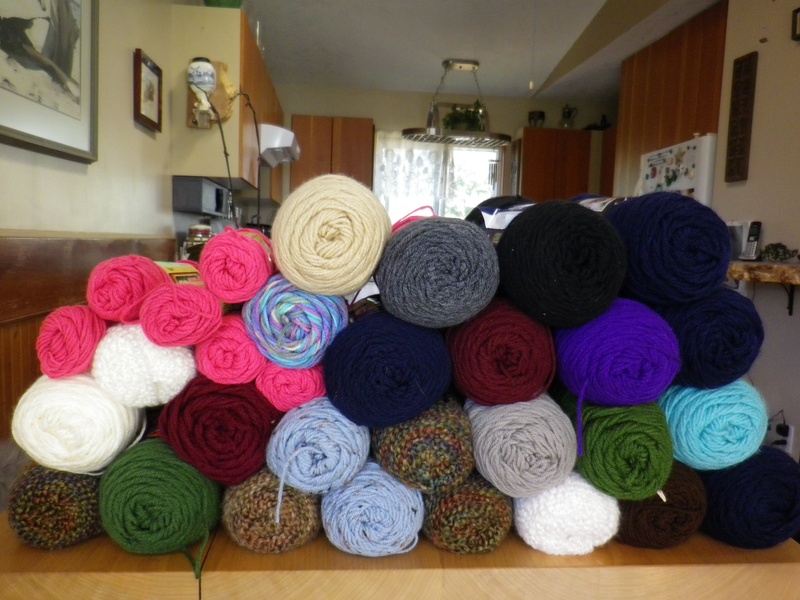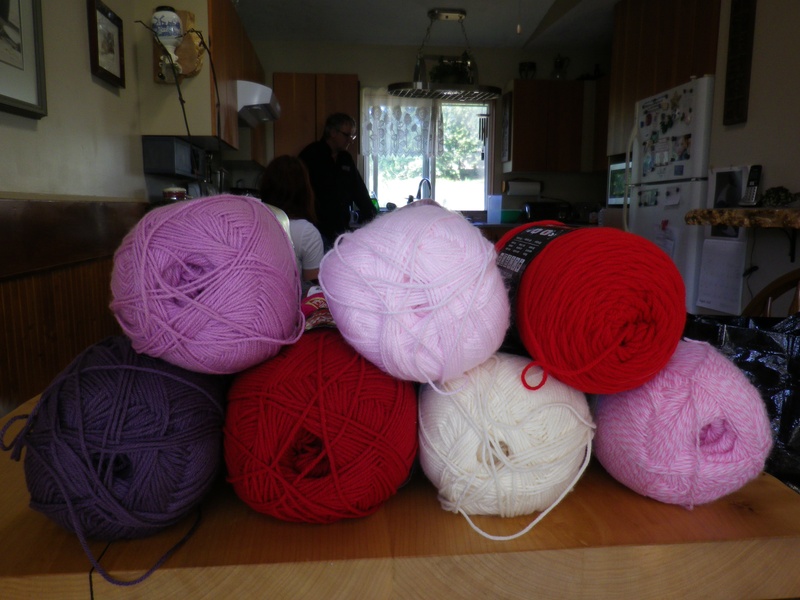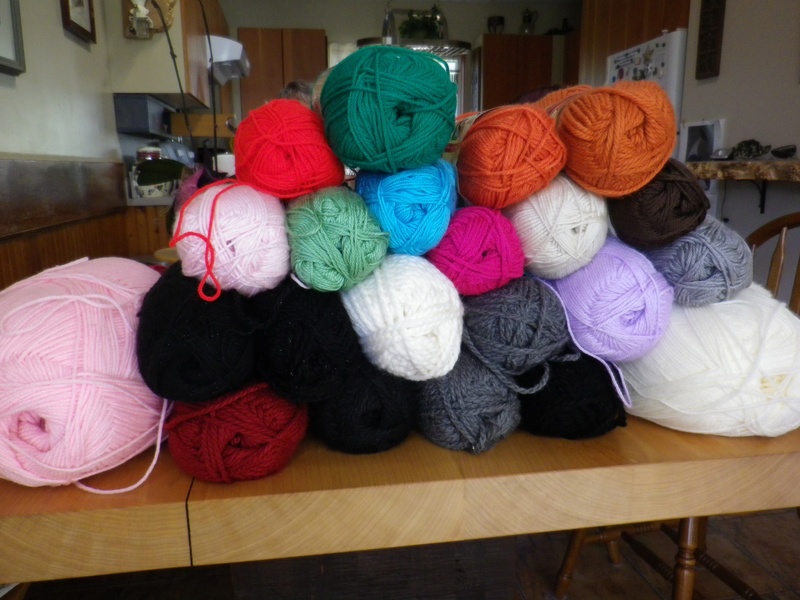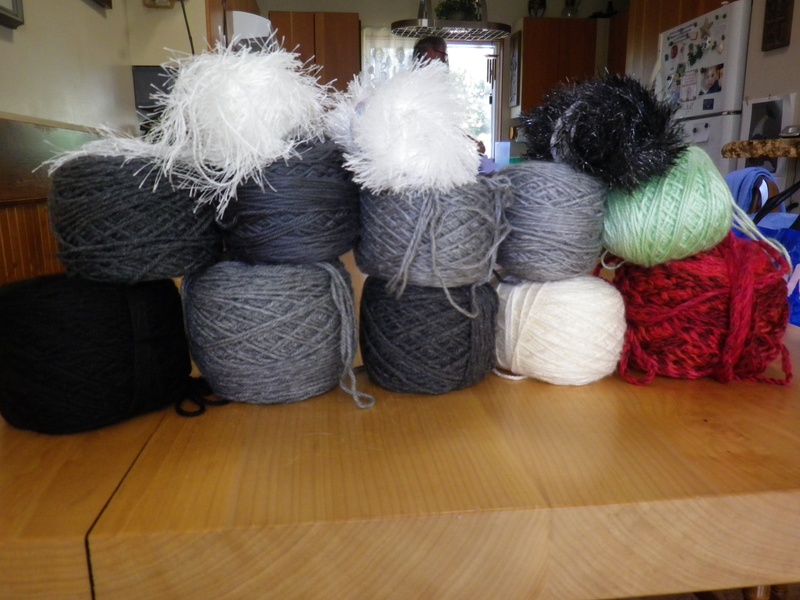 This was all ONE PURCHASE!! Pretty impressive, huh? And to think by this time next year it will ALL be "something", thanks to our incredible Volunteers.

We have had a busy and very productive few weeks since our last update.
The July Group Hug was sparsely attended but with beautiful days, holiday schedules, and high temperatures, it was not so surprising. However, those that did attend accomplished an incredible amount!
Sewers started and completed multiple strip-quilt tops and/or backs, cutters cut fabric all day for upcoming projects, pajamas were started, kit bags were finished and on and on!
Stitchers continued with their knitting and our Yarn Diva tagged and sorted everything that had been returned since the last gathering.
Unfinished items went home, most of which have now been completed and returned.
What a wonderful, productive time. Thank you ladies, for all that you have done and continue to do.
On Saturday, August 1st, we held a Hot Dog Sale at Country Grocer in Lake Cowichan and it turned out to be our most successful sale to date! Tourist traffic and the smell of Dick's Special Sauce brought out the hungry who graciously donated to our organization. Thanks to Anne, Stacey and Dick for your efforts on one of the hottest days of the summer!
Our next Group Hug was on Saturday, August 8th. Our focus for this GH was to have the Sewers complete any remaining strip-quilt tops and/or backs. The Stitchers continued with their work on toques, scarves and fingerless mitts, adding slippers to the mix. Here's a couple of pictures of the quilt tops finished that day, the first one in cotton and the second in flannelette.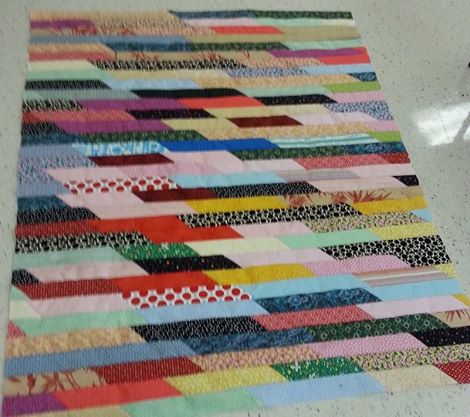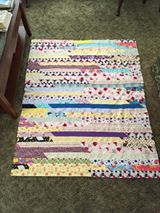 Aren't they great!
We don't have a Group Hug in September (the next is in October) but I know that our Volunteers are continuing to produce items....because I'm pcking them up and adding them to our inventory! 
The return to school and the change in leaf colours signal the beginning of our busiest quarter -- it's Winter Woollies time and the push is on! We have approximately ten weeks left before we distribute our items to our clients. I think this is the favourite time of our year for most of us as we see our labours doing what we intended when they were created, helping someone in our community.
Join us on our adventure, won't you?
Remember . . . .
Helping in any way goes a long way.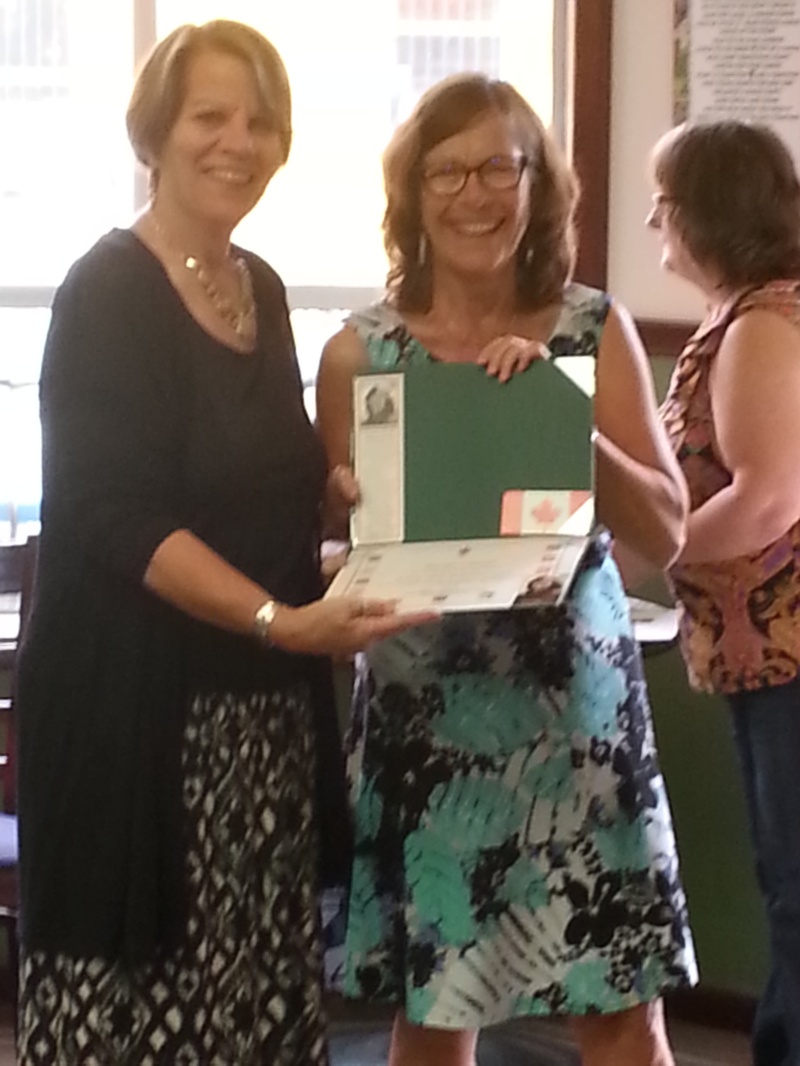 Recently Volunteer Cowichan (www.volunteercowichan.bc.ca/) held their annual
Helping Hands Volunteer Recognition event
and one of our Directors,
Monique Lapointe
was honoured! Above and below are the photos and the acknowledgment from the occasion.
Jean Crowder (right), our local MP, made the presentation.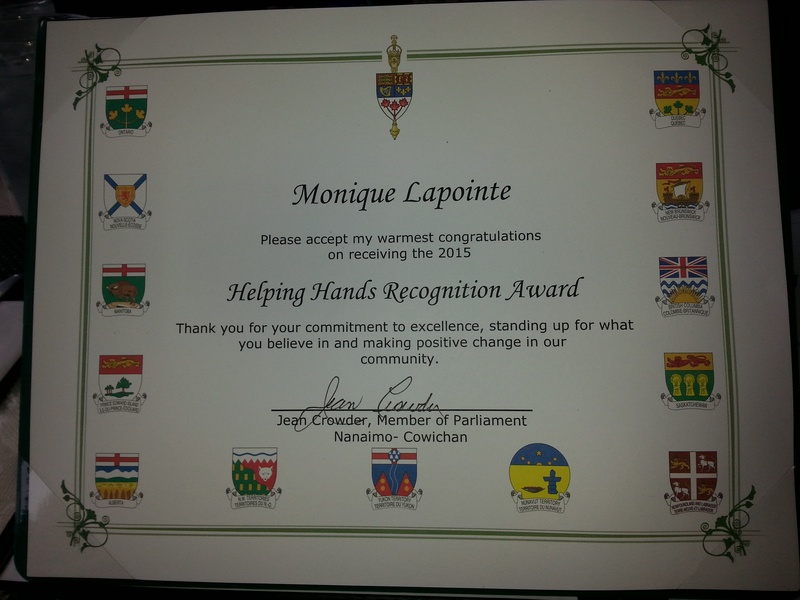 Monique has been with our organization since its inception. She is our Yarn Diva, the person in charge of acquiring, sorting, storing and distributing all of our yarn supplies. Monique is a tireless volunteer, searching the internet daily for free or inexpensive yarn purchases, helping at every function from Hot Dog Sales to work bees. She handles the inventory from initial purchase to final presentation, preparing yarn 'kits' that go out to other volunteers then collecting, tagging and storing the finished product all while maintaining our inventory of needles, hooks and patterns and she is always knitting or crocheting for Handmade Hugs. Monique is very patient, sharing her skills with newbies and updating her own skills so that we can consistently offer our clients the best items we can produce. Our Society would be much less without her.
Congratulations, Monique, we're very proud.
As announced last month in our Volunteer's news, we've been busy making some changes at Handmade Hugs. What follows is the update.
In 2013, we were asked by our volunteers to host a monthly mini-work bee and so our Group Hugs were born. For the last two years, we've met ten months out of twelve and thoroughly enjoyed meeting with everyone, working and visiting together, having volunteers pick up supplies, or dropping off finished inventory, introducing "lookie-Lou's" to our program and generally becoming a recognized group within our Valley. However, like all good things, change is inevitable and the time for change has come to us.
We've decided to change our routine from having a once-a-month Group Hug, to having a once-a-quarter (three months) Group Hug. Just recently, the numbers attending our monthly work bees were dropping off and we were worried that we were asking our volunteers to sometimes give up time with family in order to serve Handmade Hugs and we thought it might be easier for the volunteers to devote one whole day in 90 instead of a part-day in 30. Below are the new dates for our Group Hugs, still held at Thrifty's Community Room.
May / June Cancelled
July 4 10 am to 4 pm
Aug 8 10 am to 4 pm
Sept Cancelled
Oct 10 11:30 am – 4 pm
Nov Cancelled
Dec 12 10 am to 4 pm (Location TBA; it will NOT be at Thrifty's)
This meeting will be to package and deliver our Winter Woollies program
Next year, the dates will be more evenly spaced but this year we need to make sure we have everything covered, hence the two summer meetings back to back.
All of the new dates are on our web site, in the Calendar section.
So…..if you need supplies to continue projects at home, either send an email from the website or email [email protected] with your request. You will be contacted by one of our Directors and arrangements will be made to connect you with your needed supplies.
We invite you to mark your calendar with the meeting dates and plan to join us. Just prior to each of the Group Hugs, you'll be sent a reminder, including the focus projects for that work bee. (We're planning another sock knitting class, a slippers blitz, and pillowcase, pajama and Hug-Able Strip Quilt construction, to name a few.) We hope you'll set aside the time to come and sew or stitch with us and, of course, you can pick up more supplies and drop off anything you've already finished.
We're looking very much forward to seeing more of you at our newly scheduled Group Hugs.
Remember . . .
Helping in any way, goes a long way!

/